About TSF
Our members have landed large hammerhead sharks, tiger sharks, lemon sharks, and bull sharks from the surf. We have some great catches, like Christopher Deaver's 12′ tiger shark, Matzy Zapala's 12″ tiger shark, Raoul Lopez's 8′9″ bull shark, Troy Copel with an 11′7″ hammerhead shark, and Travis Coppel with a 9′3″ lemon shark and a 13′ foot tiger shark. Terry Hessey, one of our members has been on TV with the Animal Planet Channel on the River Monsters show. Christopher Deaver's capture and release of his 12 foot tiger shark made Shark Week on the Discovery Channel. Our primary catches are 5′ to 6′ black tip sharks and bull sharks, with some hammerhead sharks, sand tiger sharks, lemon sharks, and tiger sharks.
Texas Shark Fishing is more than catching giant monster once in a lifetime fish. It's a community of good people obsessed with helping the new guy, finding the hot spots, mapping the migration, and having a good time. While your here, check out what we have to offer.

Chris Deaver, Bull Shark Matt Zapala, Tiger Shark Troy Coppel, Dusky Shark
MESSAGEBOARD AND DISCUSSION FORUM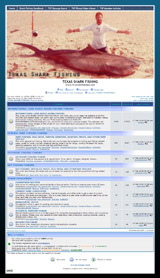 We feature one of the most active shark fishing discussions forums in the world. We average over 100 member posts daily with discussions ranging from fishing reports, rod building, reel repair, surf fishing topics, reading the surf, too networking with other members around the globe. He have fishermen from North Carolina, Florida, South Africa, Australia, Georgia, and many other places.
Our primary forum is the INTERNATIONAL LAND BASED SHARK FISHING forum. This is where the majority of the fishing discussions happen. We have fishing reports from around the world, and many discussions of shark fishing from places like Florida, what is happening in South Carolina, the beaches Australia. Also discussions like how to make shark leaders, what are the best times to fish for sharks and much more. Most of the sharks we catch on the site are five to seven feet long, but occasionally we catch some monsters.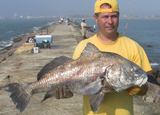 We also have a SURF FISHING FORUM. Whether you want to talk about fishing for bull reds, throwing lures for speckled trout, trolley rigs or slide lines for kingfish and cobia, this is where the discussions take place. Interested in Long Distance Casting? Want to learn how to throw the pendulum cast 150+ yards? Off the ground cast? Interested in catching jackfish? Want to learn to catch bull reds in Galveston, Surfside, Matagorda, Cape Hatteras, or Panama City? Want to learn to catch black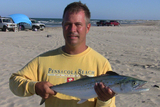 drum off blue crab off a jetty or ship channel? We have weekly surf fishing reports and information on the major fishing events like the bull red run, mullet migration, the season for tarpon, what spots to fish and what baits to use. How do you catch pompano on the padre island national seashore? How do you target tarpon of a pier in Destin or Pensacola Florida? What is the cobia run? When do the Spanish mackerel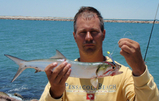 show up at Port Aransas, Texas?
Our VIDEO FORUM, is an archives of almost a hundred saltwater fishing videos prepared by our members. We have surf fishing videos from North Carolina, Texas, Florida, and Louisiana. Video of catching bull reds at the Surfside Jetty, or leadering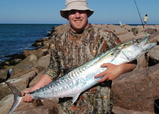 an 11 foot hammerhead shark on Palm Beach, or catching kingfish at Bob Hall Pier, we have lots of exciting footage. You can see video anglers catching of lemons sharks, bull sharks, and a few videos of catching tiger sharks.
We have a REEL AND TACKLE MAINTENANCE FORUM. Alan Tani has contributed many outstanding reel rebuilds. Alan's tutorials break a reel down step by step, with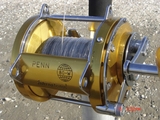 detailed descriptions, parts labeling, and commentary on how a reel works, strengths and weaknesses. These tutorials are the best we know of in the world. Penn International Reels, Shimano Tiagra, Newell Reels, Penn Jigmaster, Okuma Titus, Diawa SHA 30, and many more. Picking out the best drag washers, modifying handles, installing magnets for casting, and general maintenance are covered step by step.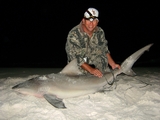 Please register for the forum and feel free to participate in the discussions. Don't worry, if you are new, we have experienced anglers to help you.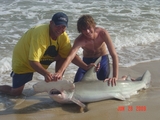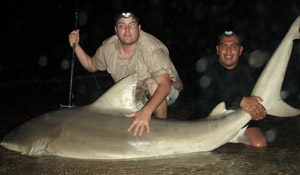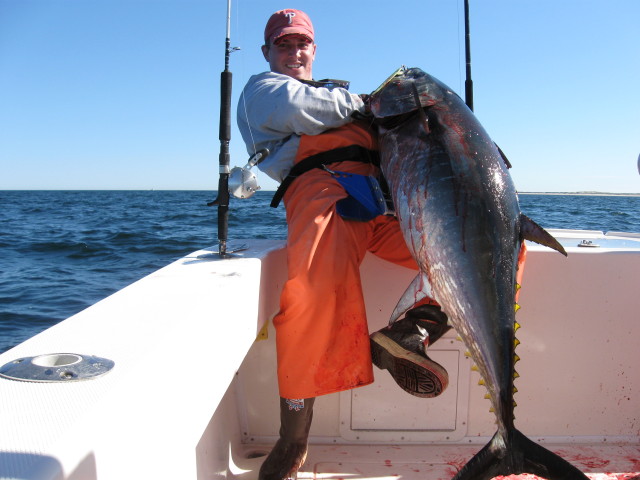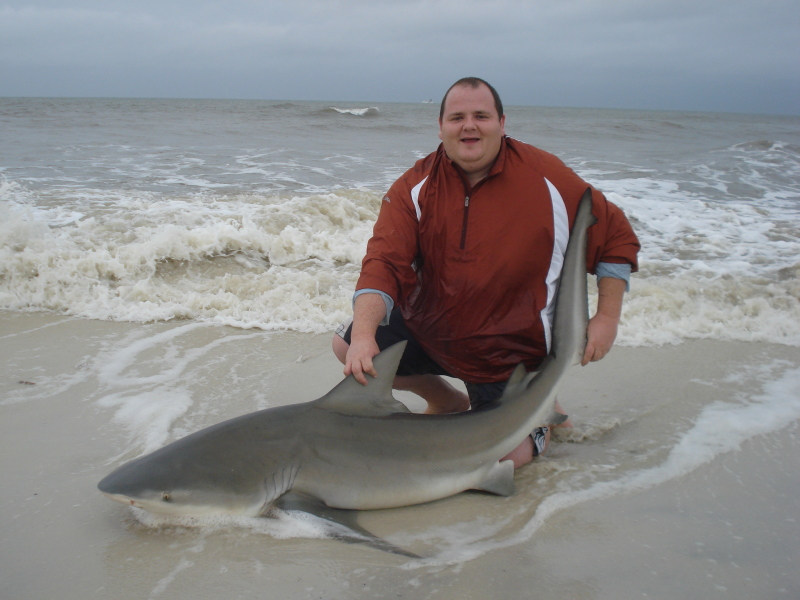 Raoul Lopez, Bull Shark Bret Baker, Yellowfin Tuna Scott Bulloch, Bull Shark
PHOTO ALBUM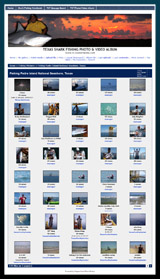 We have an awesome custom photo album loaded with catches from our members.