Fishing Reports
ROCKSTAR FISHING REPORTS -SALTWATER ADVENTURE AND TRIUMPS.
This section covers rockstar fishing reports, which are so outstanding they should not be lost in the postings of the messageboard. If you are interested in having your report in this section of our websites, please follow this link for more information rockstar report posting info.
While we are getting this up, we are going to post some action from July 2007 off the beaches just south of Bob Hall Pier in Corpus Christi, Texas.
by hen_feen1034 » 09 Jul 2007 11:55 pm
Me and FISHFOOD packed up the gear Friday evening and headed to Bob Hall to meet up with Dusty and Deaver. The clouds were still around and we were expecting to get some rain during the weekend. Weapons of battle: My 6/0 using 500 yards of 50lb ANDE, FISHFOOD's new 9/0 and 4/0 spooled with PowerPro and BERKLEY Big Game. We stopped at the Red Dot and picked up some shrimp and squid….we were hoping to catch some good size whiting and stingray candy for the sharks!
Got to Bob Hall at around 11PM and every plank on that pier was taken by either a fisherman or fisher-woman working the waves trying to pull in the skipjack's that were moving heavy! Dusty and Deaver met us about 30 minutes later with some shrimp and we decided to leave PINS for another trip and move South of Bob Hall around 2.5 miles down. Dusty and Deaver were able to find a sweet spot in the surf….lots of guts in close and 2-3 foot waves! Tents went up and we started preparing the weapons of war….set the rod spikes and kept moving until we were settled in.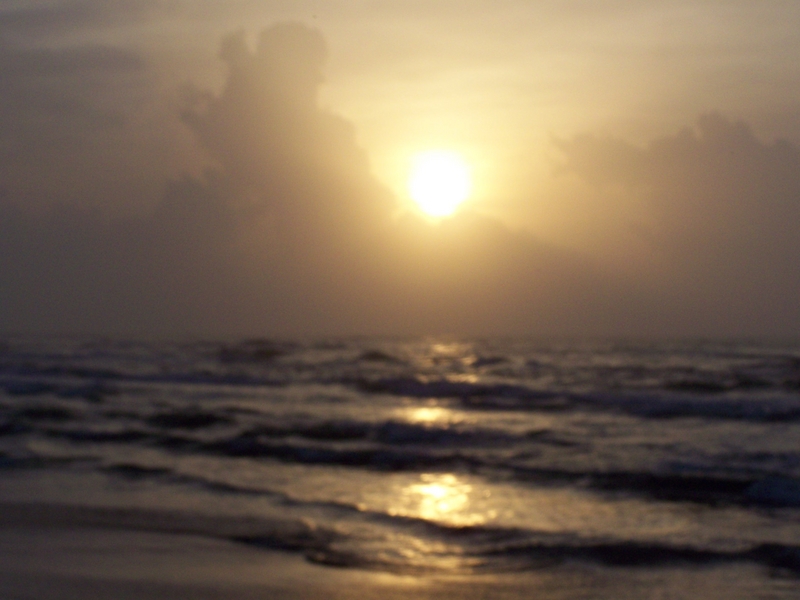 That morning, DUSTY hooked up the camp big time catching the mullet in the surf…..picked up a few 12 inch horse mullet and trapped about 2 dozen smaller ones! TIME TO FISH!!!
After getting some priceless pointers from the veterans….me and FISHFOOD were ready to go! My man Andy takes the gold on yakking the first baits of the trip!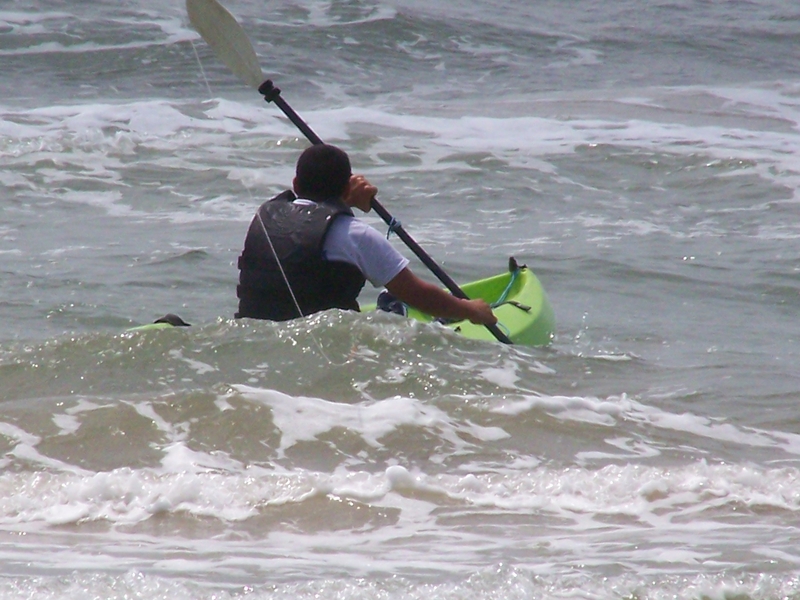 We start tossing the shrimp into the first big gut….Deaver and Dusty pulling in whiting left and right and Jakob and I getting whatever we can on the shrimp and lures. Nothing big happens during the day…..the bait leaves the area for a few hours and it gets real quiet….my rod clicks over three times and me and Andy rush to the scene….shark drops the bait before we're able to set the hook!

All of a sudden we feel a strong cold front come in…the clouds start rolling and the skies get dark….does not look good.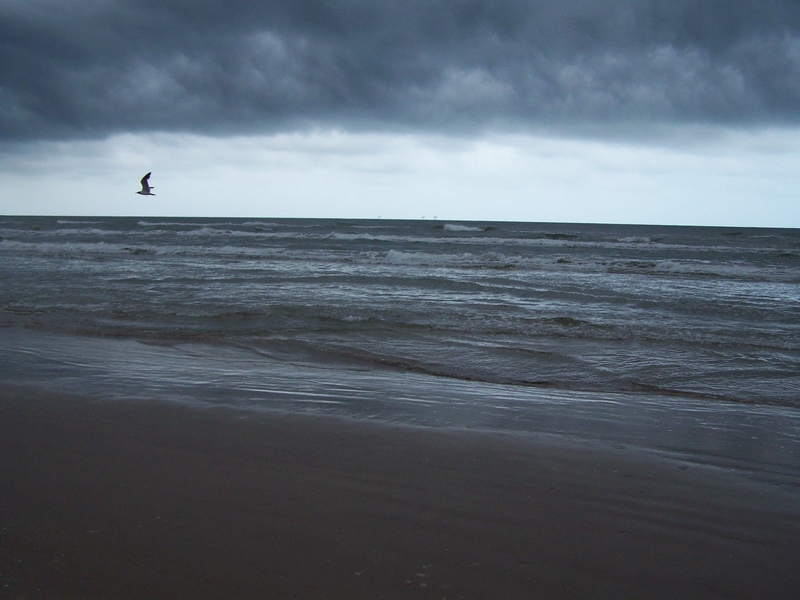 It passes after about 45 minutes….no rain, but TOOTHY and his brother Chris show up to join the party! They setup camp about 150 yards from us and start yakkin the baits! Using a huge skipjack caught the night before, about 45 minutes later….BAM!
TOOTHY'S HOOKED UP!!! We take off in a sprint to see the action!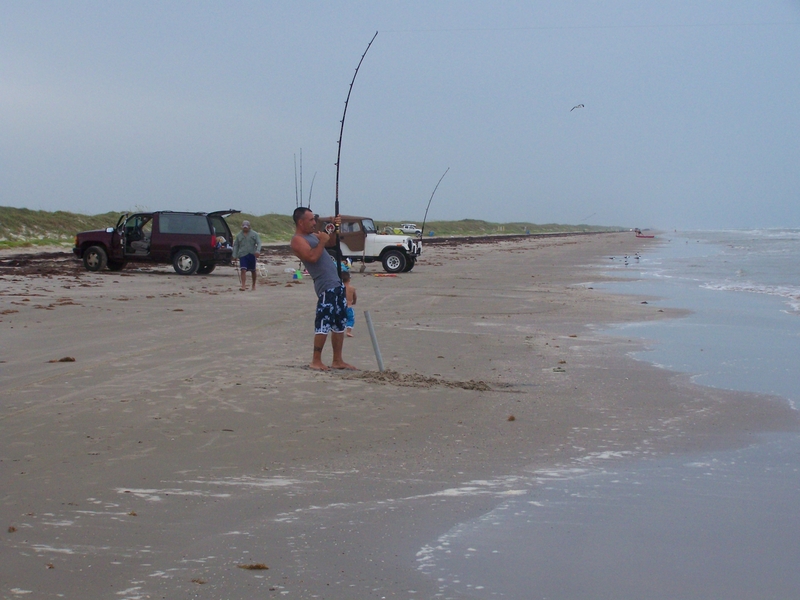 After about 10 long minutes….he lands a nice blacktip!!! Quickly removes the hook and sends him on his way….licking his wounds!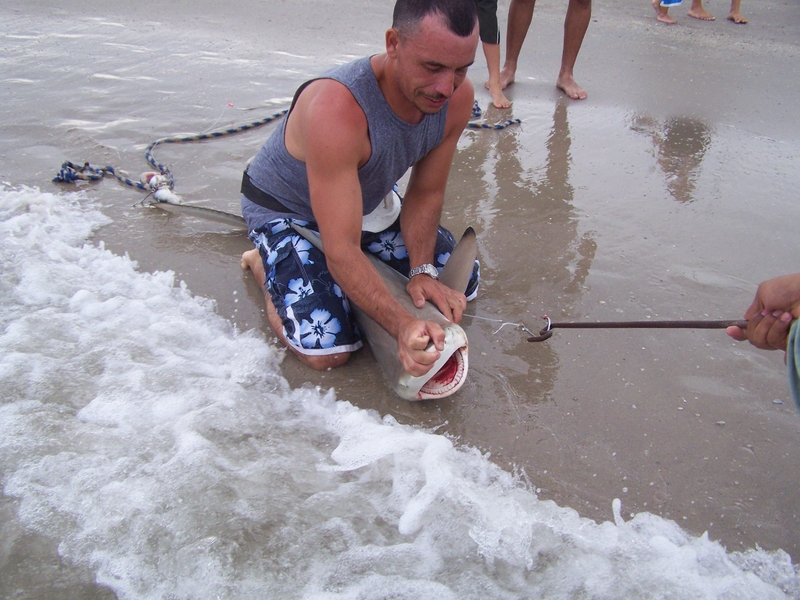 The evening quickly rolls upon us and with a twinkle in his eye…Deaver tells us to get ready for the hits. Sure enough….just as he called it…..my 6/0 pulls long 3 times…..we all spring into action and after some direction from the crew take about 6 steps back and HAMMER the hookset! FISH ON!!!
I can feel the monster on the other end start to run after the hook is set…..I take another 3 steps back and BAM….hammer it again! After about 25 minutes of pain…..fighting to keep every inch of line and trying to put back the 200 yards that were already out…..we see the blacktip fins on the shore! The guys move into action and prepare for the release!
After a load of pictures and video….Dusty and Deaver helped get the shark back in motion to fight another day!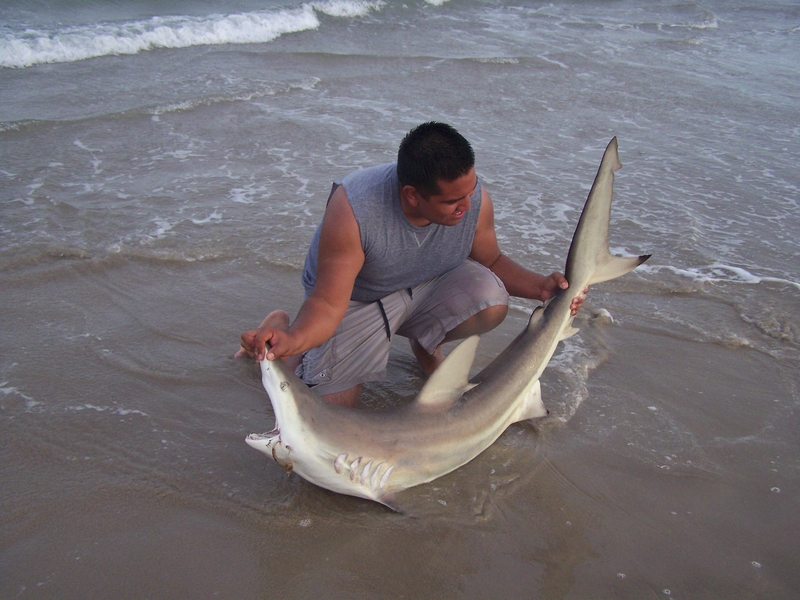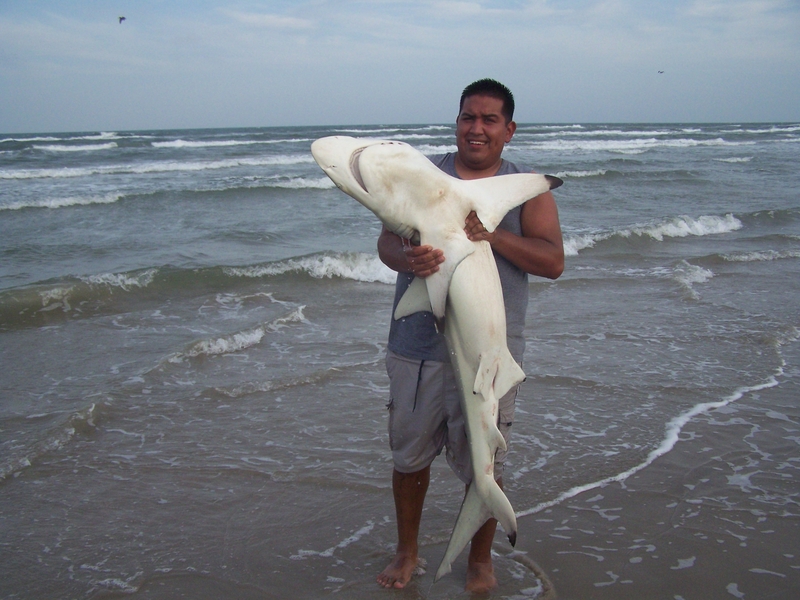 We ran some baits in close the next hour but nothing was picked up. After some finger licking bar-b-que wings we hit the sack and spent Sunday relaxing and enjoying the surf!
TILL NEXT TIME!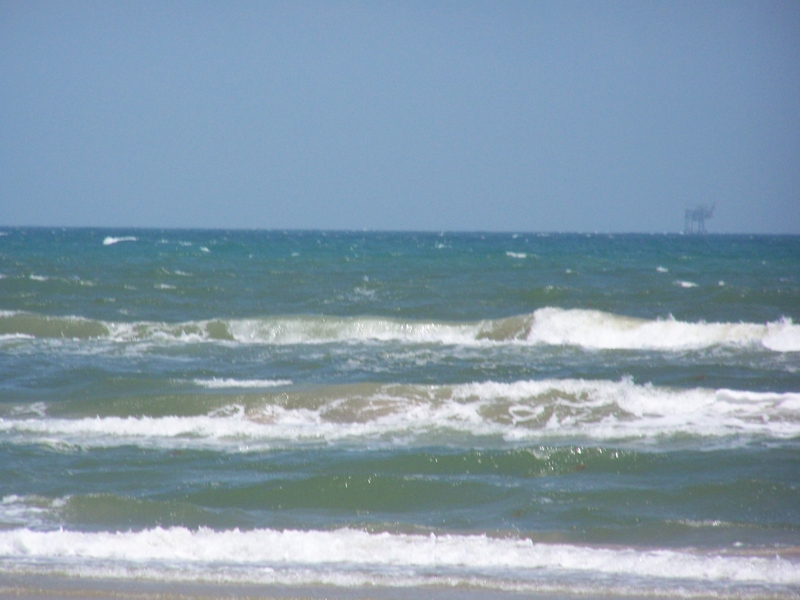 HEN FEEN
Additional Pictures from the trip.