Shark Fishing Handbook

THE SHARK FISHING HANDBOOK
By Christopher Deaver, a.k.a The Power Fisherman
Published 2002, Revised 2008, All Rights Reserved.
INTRODUCTION
The SHARK FISHING HANDBOOK is designed to provide a basic introduction to shark fishing and orient the new angler to a working body of knowledge. Our primary discussion will focus on techniques and information employed in targeting 5′ to 7′ sharks from the beach, jetties, and piers.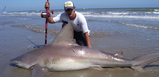 This type of fishing is called LAND BASED SHARK FISHING. Future information geared at targeting larger sharks, which I consider an advanced subject for the new shark fisherman, will be published later. Most people who catch larger 'Hollywood' sharks do so after 2-5 years of fishing the beach.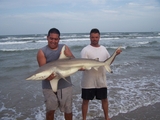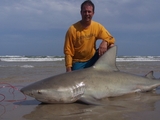 I have spend much of my time fishing in Texas, but the thinking and general techniques we share here work in all surf environments from North Carolina to Australia, from Florida to Mexico.
We know many people want to catch large trophy sharks when they get into this. That is an admirable endeavor. I do believe that targeting 5′ to 7′ers will build the skill and thinking to go after the big one with good odds for success. For those interested in targeting the larger sharks, the mid-sized ones help you get your system down and train your crew. The key to being successful at shark fishing is adopting a good system based on good techniques and spending some time to develop a body of experience on how to apply the techniques in various conditions. It will take about fifty days on the beach before you get your system down cold. Once you have your system down, you should be able to catch a nice shark each day you fish in the Mid-Spring to early Summer and from early Fall through November.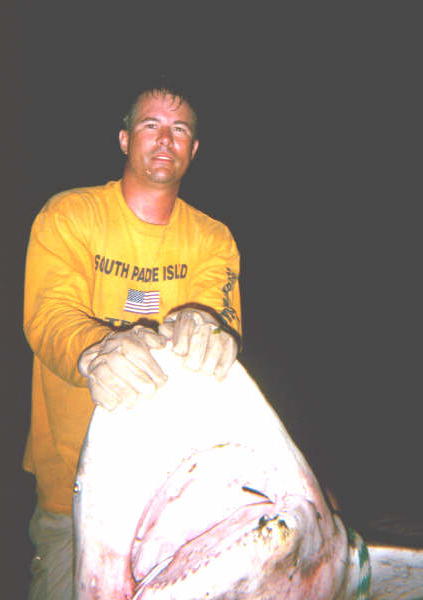 TABLE OF CONTENTS
The subject material is broken into "pageview" chapters. By clicking on each subject link, you will receive a brief introduction to an important shark fishing topic. We try to cover the essential logic and key techniques to build into your system eliminating costly trials, error, and frustration along the path of your development.
Chapters:
Chapter 1, Shark Fishing Orientation, provide a general overview of what is required to become a shark fisherman, before moving on to specifics subjects and techniques. The right mental attitude towards the sport and learning the sport is your foundation to success.
Chapter 2, Building a Shark Fishing Crew, covers the importance teamwork to success. Get the right team together, and success is inevitable.
Chapter 3, Shark Fishing Tackle – Selecting Rods and Reels, is a general knowledge article for selection shark fishing tackle. We cover the tackle for catching medium sized sharks, tackle for huge sharks, and tackle for general surf casting.
Chapter 4, Planning A Shark Fishing Trip, provides an overview of the thinking behind planning your shark fishing year, the importance of water temps, short term planning tools like tide charts and weather forecasts.
Chapter 5, Picking a Spot and Setting Up Camp, includes information to adapt to the beach environment, beach comfort, use of metal rod spikes, and a little on reading the surf.
Chapter 6, Shark Bait, a very comprehensive chapter covering a very important aspect of shark fishing. Pay close attention to taking care of your bait and keeping it as fresh as possible.
Chapter 7, Shark Leader Preparation and Shark Bait Rigging, covers the preparation of stealth traces and setting your bait up.
Chapter 8, Shark Fishing Bait Placement Strategy and Deployment, provides an overview of how to fish your rods, haow deep to run the lines, selecting bait deployment options including kayaks, zodiac, or jet ski.
Chapter 9, Fighting, Landing, Handling, and Releasing Sharks, the title says it all. Pay attention to keeping sharks in the water and staying organized when handling sharks.
Chapter 10, Fishing Hard and Staying Motivated, coping with hard times and staying motivated.
Chapter 11, Putting the Shark Fishing Handbook into Action, a review of the important points of the handbook, sort of a checklist of what you should be doing to be successful.
Catch and Release is Great!
Each state has different game laws. Although Texas law allows an angler to keep one shark over 24″ a day, we encourage anglers to practice catch and release fishing for shark species. Successful catch and release fishing requires teamwork and organization to quickly get a shark back into the water. Ninety-eight percent of the sharks seen here are released. If you decide to keep one, we will respect your decision.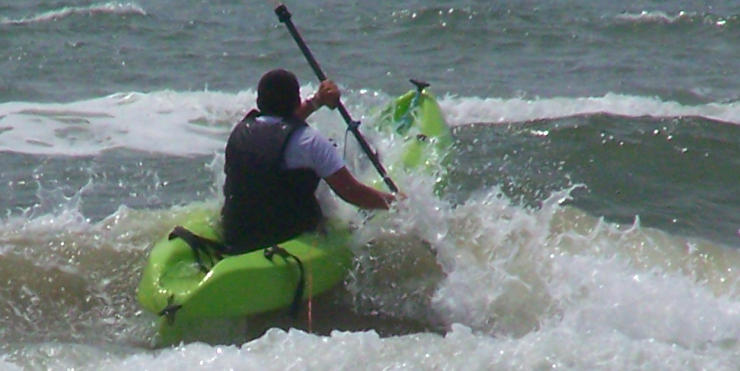 Cautionary Statement:
Although shark fishing can be a lot of fun and thrilling beyond compare, it is fraught with pitfalls and danger. Safety and clarity of mind are of paramount importance when dealing with sharks and the surf environment.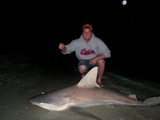 The ocean can kill you, no doubt. Losing a hand to a shark is insignificant compared to the magnitude of loosing your life. You are more likely to drown than be attacked by a shark. Caution is important and getting into things slowly will allow you to navigate these inherent dangers in dealing with the surf environment and allow you to enjoy a very exciting sport.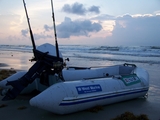 Think of the shark fishing camp as a construction site where safety comes first and there is no room for drugs or alcohol. Happy hour starts when the fishing day comes to a close and the last rod is reeled in. Fish together with other people and call for help when you need it. Be extra careful when you are tired or sleepy. Pick your fishing crew wisely and let them know you expect them to be both careful and sober while fishing. It never hurts to have a safety meeting in your campsite before you put the first bait out. Use prudent judgment on the beach and take care to be safe.
BACKGROUND
I wrote the Shark Fishing Handbook after leading Team Stud to win the first Texas Sharkfishing Rodeo in 2002. As I took some friends to the beach to teach them shark fishing, they recommended that I write all of this information down and publish it.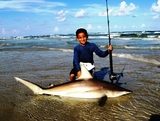 Some of the ideas shared here were developed on my own, some came from friends, while others came from Australian techniques.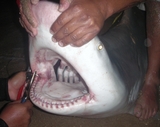 As a new shark fisherman in 2001, I wanted to get my hands on good information to launch me into the sport. I found many people who spoke about shark fishing, but not many who actually made the catches.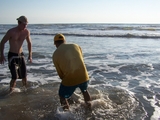 The internet was full of opinions on technique which were circulated and passed as wisdom by people who had never caught even five sharks. I wrote this Handbook in 2002 so there was a site in Texas with WRITTEN ARTCLES ON SHARK FISHING TECHNIQUES THAT WORKED. Even today I see many people who have copied ideas off my site and published them, without getting the details right. That is the testament to our success.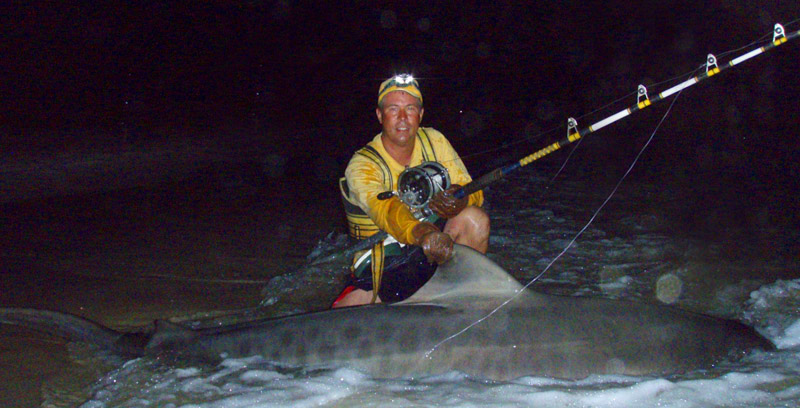 LET'S GET STARTED!
This Handbook is filled with PROVEN TECHNIQUES THAT CATCH SHARKS. Over the years several hundred shark fishermen got their jump start off this information.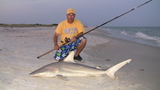 I suggested you read all the content on the site three times to internalize it.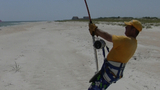 The material is written in a very condensed manner. I do not argue or persuade the merits of the techniques. This is a blueprint for results. Just copy the system as close as your can for results. After you catch your first ten sharks, then take the liberty to improve on what is presented here.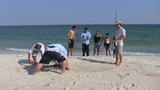 After you read the handbook, I would suggest you join our messageboard, for shark fishing discussions. The messageboard is very active with shark fisherman from around the world.
We also have shark fishing websites for many states: North Carolina Shark Fishing, South Carolina Shark Fishing, Georgia Shark Fishing, Florida Shark Fishing, Alabama Shark Fishing, and Louisiana Shark Fishing.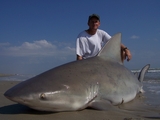 Some of our shark fishing members are from other states as well such as Virginia, Maryland, Delaware, New Jersey, and New York, Conneticut, and Maine. We also have members from Australia and South Africa. The Texas Shark Fishing site is the original founder site. It is our desire to reach out to shark fishermen world wide to create a larger, more productive, and responsible shark fishing community.
THANKS TO POWERFISHERMAN FROM LASHARKHUNTER
Last night I was reflecting on what has been two awesome years of sharking fishing for me and Jr. and company. I started asking myself what made the difference these last two years versus the 18 years prior to it.
The answers were simple…When I first found TSF it was through the Handbook which captivated me. I began using several of the techniques that were in the handbook such as the taped hooks, the weights, coated cable, circle hooks etc. I immediately saw a difference in my catch ratio and the size of sharks we were putting on the sand




I became a believer in TSF and its members. Being a member here connected me to many members, and a few that have had a HUGE impact on my fishing and its success. I have made friends that will last a lifetime. I have memories that will last a lifetime. I have had experiences I don't think I would have ever had without TSF.
So I just wanted to say…..THANKS POWERFISHERMAN for making all of this possible!!
LaSharkHunter