03. Shark Fishing Tackle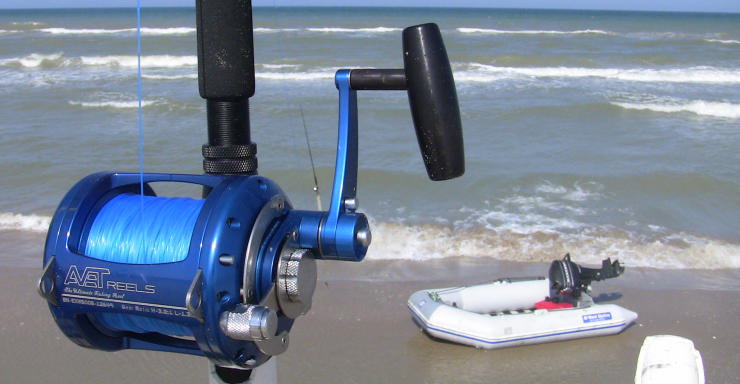 This section is designed to provide the new angler an introduction to big tackle used to fish the surf environment, including piers, jetties, and the beach. New shark fishermen face quite a challenge in selecting the right tackle. Many times a new angler will spend quite a bit of money and several years of fishing before they get it right. This article should provide information to push the new angler rapidly through the learning curve to gaining the most from each dollar spent on fishing tackle.
This article will focus on rods and reels for three styles of angling:
(1) Heavy Surf Tackle for medium sized sharks, also big tarpon and jewfish;
(2) Big Shark Tackle for sharks over 8 feet in length.
(3) Surf Casting Tackle for jacks, bull reds, kingfish, black drum, and tarpon under 6 feet.
When a new angler walks into a real fishing tackle shop, seeing hundreds of thousands of dollars in shiny, beautiful tackle, the experience can be overwhelming. The equipment seems incredible, price tags can be shocking, and everything seems exciting. I think of this as the "candy store" experience. Many of the sales representatives are friendly, but not many have really fished the surf the way we do. Hence our article to provide guidance and save you money.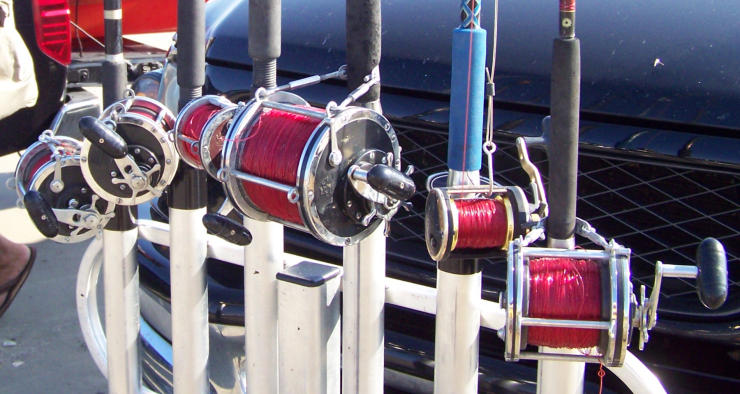 How do you sort all this out?
To be rather blunt, I am going to describe the equipment for each of our angling categories and give you a short list of what to get to accomplish the mission. The key is to maximize the bang for the buck. Cheap gear is too expensive in the long run and the most expensive "Swiss watch" quality gear does not function well when invaded by sand. We recommend tackle that is proven and works. A word of caution: good things are not cheap and cheap things are not good. It is better to pay a little more than you expected than a little less than you should. If money is a critical issue, sometimes you can find quality used tackle and save 25% to 40% off new retail prices. If you keep your eye out for bargains, you can find them from time to time.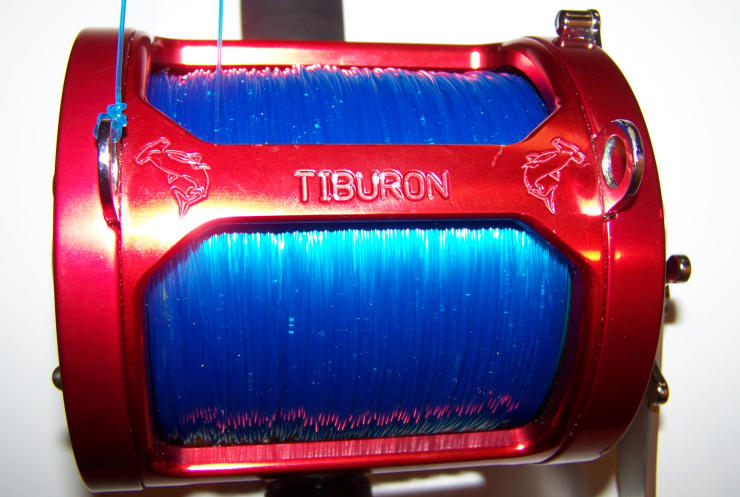 Sticker Shock
Most decent fishing rods cost at least $70 and most decent reels cost better than $125. A $50 rod and reel combo from Academy is usually not going to land you a 5 ½ foot blacktip shark. A new surf kayak with a nice paddle and a back support will cost $550. Each big shark rig will start at about $400-$500 for an 80# class set up. A good belt will cost you $125, and the back belt will cost you $100 more. This sounds like a lot until you consider what the weekend bass fishing warrior in a boat spends. A bass/bay boat can cost $15,000 or more. He can blow through $40 in fuel during a weekend. A good surf-fishing outfit with a kayak can be obtained for about $1,000. That surf fishing outfit can put you in reach of gamefish the typical bass fisherman will never see. Now, let's move to the details of this subject.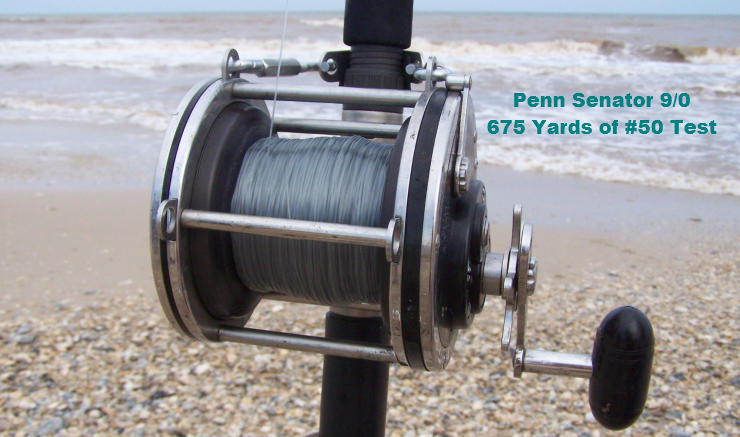 Heavy Surf Tackle
The general fishing model here is kayaking a one-pound bait two to four hundred yards off the beach to reach the water 8′ to 15′ feet deep. Another twist is kayaking bait out from a jetty or a pier. This tackle can comfortably handle sharks from 5 to 7+ feet, and handle sharks a little larger under favorable conditions. Fifty-pound class line is the minimum entry point due to the abrasive nature of sandbars on the beach. Reels must hold 500 to 700 yards of line to reach the deep water and still have some line in reserve when the big boy shows up.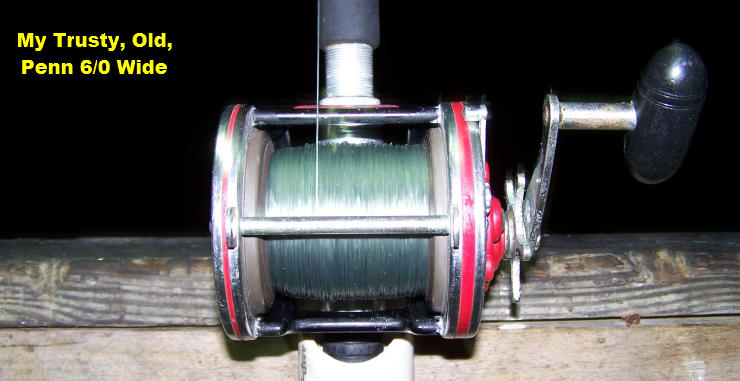 The Reels
My favorite reels for this class of angling are the Penn 114HLW 6/0 Wide Spool Senator, the Penn 115L 9/0 Senator, and the trusty Daiwa 900. I prefer the 6/0 Wide Senator because it is a little easier to handle than the other reels. Many people love the Penn 9/0 and others are just crazy about the Diawa 900. Just pick which ever one you fancy, they all perform like champs. These reels run between $150 and $170 dollars and will last years and years.
Why these reels?
(1) Each of these reels is relatively easy to service;
(2) Cheap to maintain;
(3) Can function in the corrosive and sandy surf fishing environment.
The Rods
I prefer short 'boat' type rods around 5′6″ to 7′ tall with a MINIMUM rating of 50lbs. Many people prefer 9′ and 10′ rods for this class of tackle, but longer rods give the fish more leverage during the fight. A second point is to look at the reel seat before you buy. Metal alloy reel seats are superior to graphite. Large graphite reel seats will work, but alloy reel seats are superior. Smaller graphite reel seats are a disaster waiting to happen. I have seen some rods rate 30# to 80# with the reel seats for a trout rod.
Another question that comes up is rollers versus regular guides. Rollers are important when you are going after tuna and marlin, but not that important for the beach. Rollers can get corroded by the sand and salt as well. Therefore, standard rod guides will work just fine if your rod does not have roller guides.
I like a rod with BACKBONE. Flimsy rods will not allow you to fully use the strong drag of your 6/0 wide or 9/0. I own two Penn Senator 9/0 boat rods rated 60# to 80# pound class which are 6′6″ tall, and have an alloy reel seat. They sure come in handy when you are trying to lift a 250 pound gamefish to the surface. The Penn Senator 9/0 rods runs just $100. Another handsome rod is the Penn Mariner 30# to 80# pound class stand up rod for about $90. These rods come with strong guides, alloy reel seats and backbone. There are also 30# to 80# pound rods and 50# to 130# pound rods available from the Tidewater series which do fairly well for about $60, except they have graphite reel seats. The 40# to 60# pound class Penn Senator is also a good choice. Note, 40#-60# pound Penn Senator rod works fine for game in this class, but the heavier 30-80# class Penn Mariner and 60-80# pound Penn Senator rods will really let you hammer a fish with all your strength.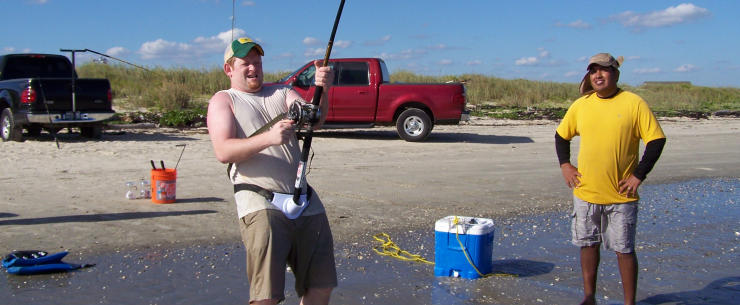 The Fighting Belt and Back Harness
After you have purchased your heavy rod and reel, and are ready to put some seven footers on the beach, don't forget the most important piece of gear you will need for the battle – a good fighting belt and back harness. A belt will make the difference between the big ones making your photo album and getting away. The minimum fighting belt is the Numark belt with the steel gimbal pin for about $35 dollars. I purchased a Braid Power Play tuna belt when I first got into shark fishing, and I still have the same set up. The Braid Fighting Harness cost me $230 six years ago, but has always been there as the lever to move mountains when I needed it. This Braid Power Play belt is unquestionably the most valuable piece of gear I have ever purchased. You will love this belt the first time you go for a thirty-minute battle with a stud.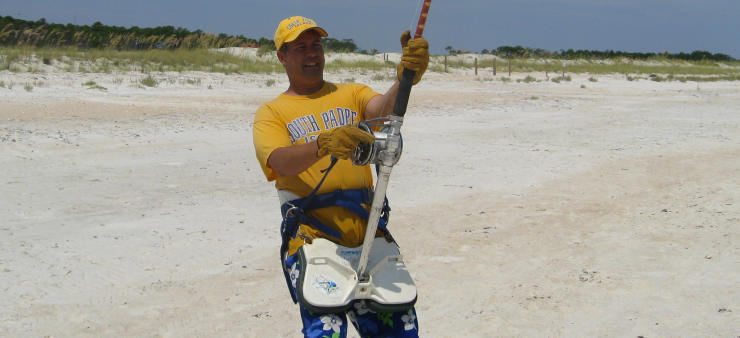 There are also some nice budget harnesses out there. The fighting belt and back harness featured below go for about $80 at Bass Pro Shop. Which ever you got with, this is essential for shark fishing.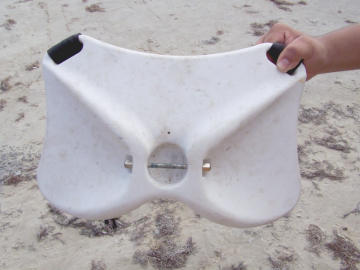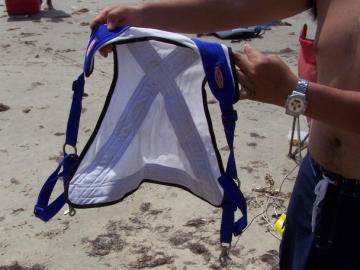 Spooling Up
My favorite line value for the surf is 50# pound green Berkley Big Game. There are several other quality 50# pound lines on the market. I always fish with dark green or clear lines. Yellow or bright colored lines will get hit by kingfish and Spanish Mackerel. As I spool my reels up, I leave room to attach 50 to 100 yards of 80# class line as a "topshot". I change line every ten to fifteen fishing days due to abrasion.
For the folks that want to extend the capacity of their reels upwards, spooling up with spectra fiber lines like Power Pro can add to the capacity of your reels. By spooling up with 500 yards of 100# pound test Power Pro and adding another 300 yards of 50# pound Big Game on top of it, you have a combo that can handle sharks to 300# to 400# pounds, ranging to 8′ and 10′, under favorable conditions. Just remember that your drag is still a 6/0-9/0 class drag that can sustain drag pressures of 12-17 pounds under extended fights and is not a Penn 12/0 which can sustain drag pressures of 20-25lbs under extended fights. Always fish with a 80# mono topshot when using with spectra lines.
Note many people will like to spool up with the smaller diameter spectra lines. The very minimum spectra fiber line is 80 lbs in my opinion, with 100 pound test prefered. Albert got his recent 9′5″ tiger on 100# Powerpro line.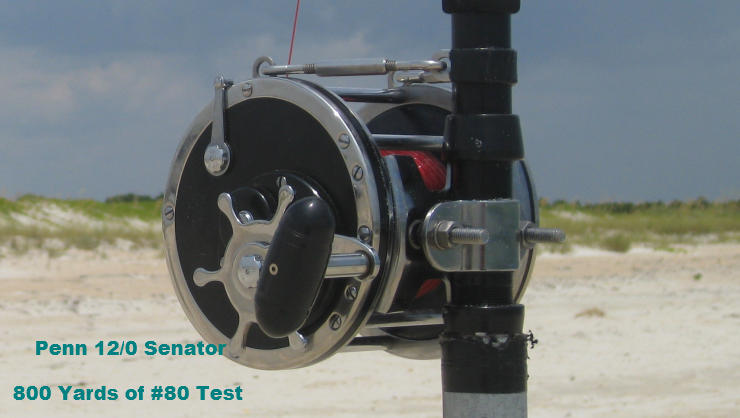 Big Shark Tackle
Fishing for big sharks in the surf is one of the greatest angling challenges. All the tackle is heavy and expensive. Each big rig costs $400 to $1,200 depending on your tastes and financial situation. I would recommend a new sharker spend money on gear for medium sized sharks and experience some success before investing in the big gear.
The model here is running large baits from the size of a 14″-17″ horse mullet to a 10-15# pound section of jackfish 300 to 800 yards from the beach. The bait deployment vehicle may be a kayak, jetski, or Zodiac. Minimum line size is 80#, with 100# test preferred. Reels hold from 800 to 1,500 yards of line.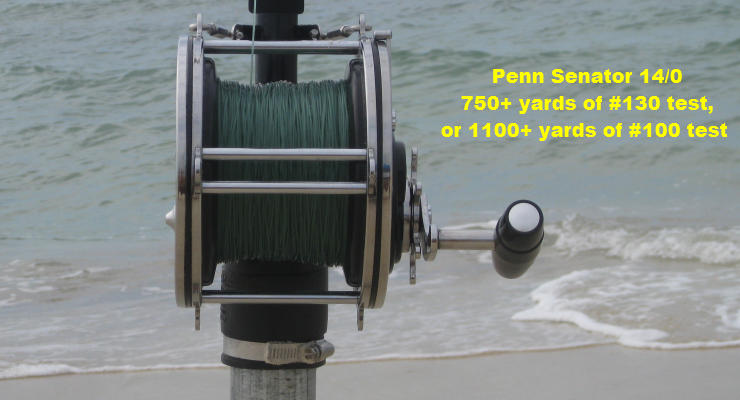 The Reels
The minimum entry point for this reel is 80# class with 800 yards of line. For the beach, you cannot beat the value of the big Penn Senators. The Penn Senator 12/0, 14/0, and the 16/0, are the standard 'big shark' reels for the beach. They are easy to maintain, and can handle sand invasion and still perform. The Big Senators offer serious line capacity. The other good thing about the Big Senators is you can often find them used at a 30% discount to the new retail price. I own three senator 12/0 reels and one senator 16/0 reel. Penn Seantors cost $250 to $350 new.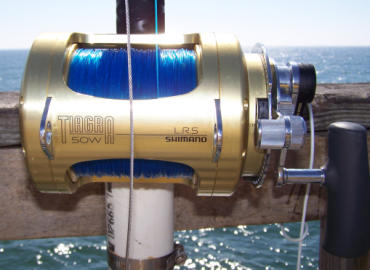 The illustrious Penn International, Everol, and Shimano Tiagra series are next step up on the price tag, with the big #80 class and #130 class models. These elegant gold reels feature huge drag surfaces, lever drag, and optional two-speed gearing. They can sustain drag pressures greater than 30 pounds for extended battles. They are like Swiss watches, with very tight mechanical tolerances. These reel start at $600 and run to well over $1,200.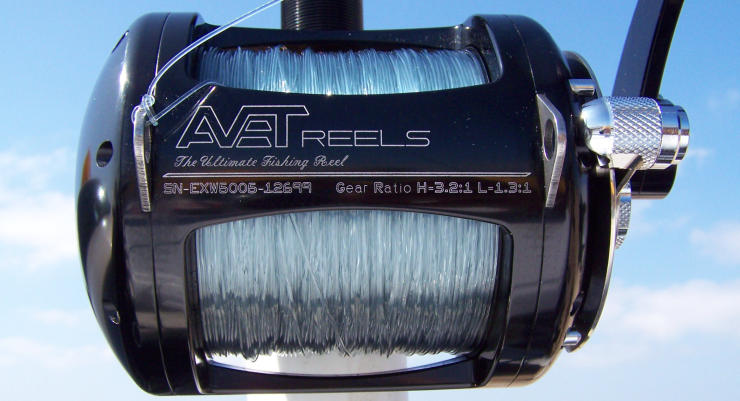 A new player on the scene is Avet. Avet is producing a wonderful series of reels that have become quite popular with shark fisherman. The reels are very durable, made in the USA, and attractively priced. All these features add up to value, but the unique thing that Avet has over all the other big name reels when it comes to shark fishing, is the loud clicker on these reels. I cannot communicate how important it is to have a loud clicker when you are sleeping at night and the wind is blowing strong. The Penn International and the Shimano Tiagras, with quiet clickers, have to be babysat. No worries with the Avets, they scream and scream when you have a pick up. Great value for the money with many happy owners. Many like fishing the Avet 50 wide two speed reel. Anglers load the Avet 50 wide with about a thousand yards of #100 test spectra fiber line and then top it off with a 200 yard topshot of 100 lbs line.
The Rods
Any rods used for this class of tackle must have an alloy reel seat. We look for shorter, stout rods going 5′ to 7′ long. Short stand up rods rated with the 50# to 130# pound class are popular for the Penn 12/0 Senator. Other popular rods are the conventional heavy 80# pound class boat rods going 6′ to 7′ with or without roller guides. Full 130# class boat rods are a little heavy for the beach and require a fighting chair. Notice these rods are very short. If the rod is 8 1/2 to 10 feet long, you are going to suffer long and hard to reel in a 400 to 800 lbs shark. If you bring the shark in too slow, you may not be able to release the shark. Buy the tacke that has the right mechanical advantage instead of buying tackle for looks. A 10′ rod on a 12/0 reel needs to be swapped for a 5′ to 7′ rod.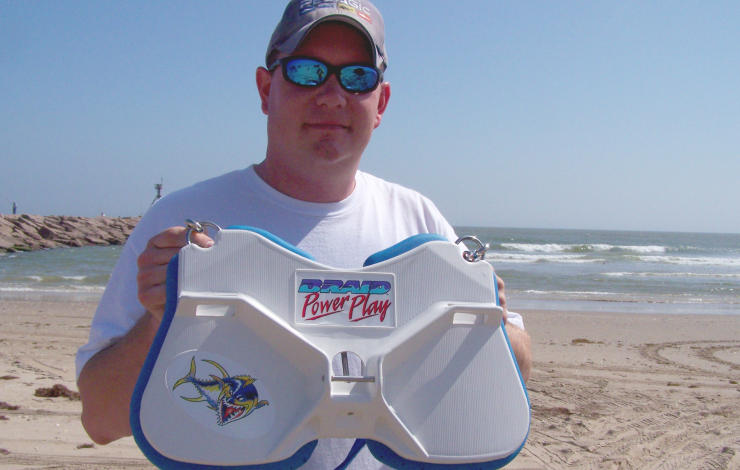 Fighting Harness
A quality fighting harness is essential for using the larger gear. I have seen people showing up at Bob Hall Pier in Corpus Christi, Texas with $1,000 of big shark rods and fish with a $12 dollar fighting belt. The poor guys could not even pull the weights in without straining. The fighting harness is one place where you do not want to cut corners. There are two schools of thought on fighting harnesses. The old school thought advocates a shoulder harness to support the rod and reel during the action. This places a lot of strain on the back muscles and upper body. The new school of thought advocates a tuna belt for the gimbal and a 'kidney' or lower back harness. This set up moves the center of gravity to the hips and legs where we are strongest. You can fight a good fish for a long time with this type of set up long after the man with the shoulder harness has passed the rod. A Braid Power Play belt goes for about $130 dollars and the back belt goes for about $115 dollars. A lot of money to spend at the tackle shop, priceless during the moments of glory.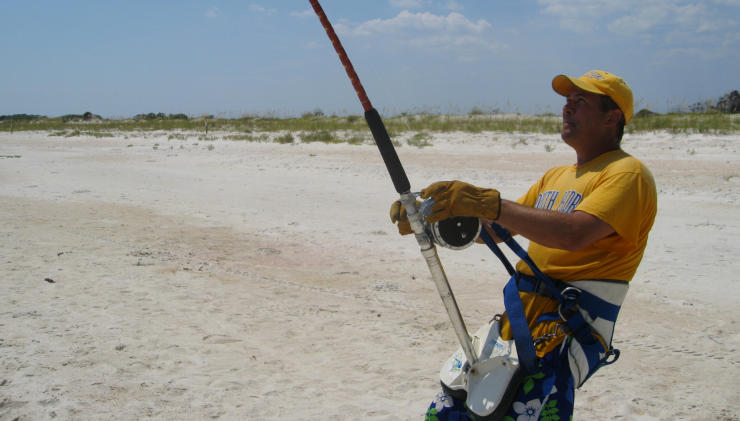 Spooling Up
In the surf, the general rule for line is heavier is better. Generally heavier line is more abrasion resistant to cuts from sandbars, debris, and small fish. Many people choose to go with 100# pound test line on 80# class reels because there is a big difference in line resilience. The heavy 130# pound line is three to four times as resilient to a single seashell cut as 80# pound line. A good 30# pound cut into your 80# pound line reduces the strength to 50# pound test. A 30# pound cut into your 130# pound test line reduces its strength to 100# pound test. As you fish the beach, the brand new 130# pound class line is eventually reduced to 80# pound class line for breaking strength due to wear and tear. The regular 80# pound class line gets torn up sooner. The 50# pound class line wears down after only 50-75 hours of fishing time when run out from the beach. Enough theory, 100# pound test is best for the 12/0 Senator when fished from the beach. The 14/0 and 16/0 Senator reels can be fished with 130# test if you fish from a pier or jetty, but if you fish primarily from the beach, go with the 100# pound test.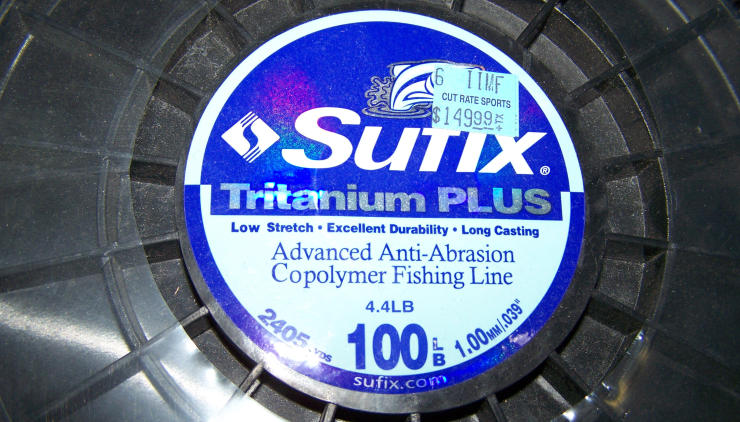 Which brand is best? Berkley's Big Game is cheap and tough. A step up are the new hybrid lines on the market. A hybrid line has a mono-type core coated by a more durable exterior layer producing a very tough resilient line. Hybrid lines easily lasts twice as long a regular monofilament lines. My favorite line is Suffix Tritanium. Suffix Tritanium is not cheap, but the line is very abrasion resistant. I fish #1,600 yards of Suffix Tritanium on my 16/0 Senator when fishing the beach. What to stay away from?…Ande lines are soft. Regular Suffix mono is soft. Dacron gets chewed up even when fished from a pier. If you have to fish Dacron, use black so the kingfish do not eat it up. Be careful of what the department store guy recommends for big line, remember most of them do not fish the surf.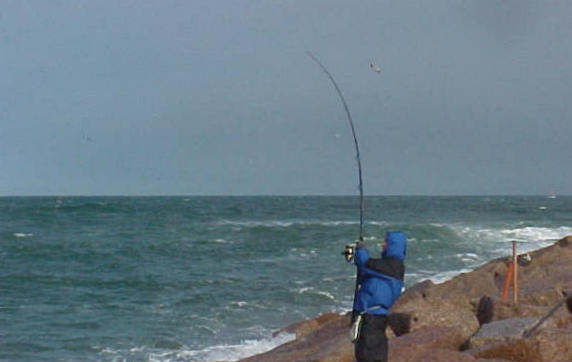 Surf Casting Tackle
The general fishing model here is casting a bait and leader 40 to 100 yards off a pier, jetty, or the beach. The line class is generally 30# pound test and higher for jetties and piers. For the surf, 20# pound test line is often used to gain additional casting distance. Gamefish sought include Bullreds, Jackfish, Sharks from 2′ to 6′, Kingfish, Tarpon, and BlackDrum. Line capacities recommended start at 300 yards for general surf fishing. Furthermore, a good fighting belt and spectra line expands what can be accomplished as a light tackle sharking set up.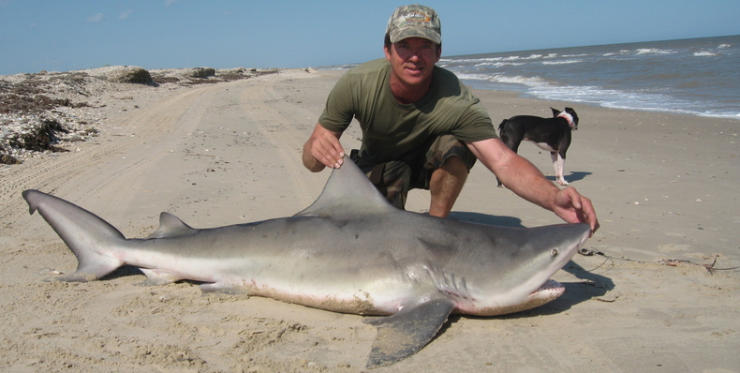 Reels
There are a lot of choices in selecting reels for surf casting tackle. I am going to narrow it down into four classes and make recommendations.
Heavy Surfcasting – Penn Senator 113HLW 4/0 Wide holds 450 yards of 40 pound test line. This reel retains the quality of being truly castable while having the guts to do some big stuff with. An extreme example is the 10′ tiger shark caught at Bob Hall Pier in the 1990's on a 4/0 wide. Many 9′ scalloped hammerheads have been brought to the pier on a 4/0 wide. This is a decent choice to acquire if you are going to use this rod for both surf casting, and targeting sharks on baits kayaked in short just over the third bar.
Regular Surfcasting – The Daiwa SHA-50 stands out for the combination of great castability combined with good line capacity. The reel holds about 350 yards of 30# test. This is an awesome kingfish reel. In expert hands this reel can cast 70-100 yards. When filled with spectra fiber lines, they make a nice light tackle set up for targeting 5′ to 6′ sharks from the surf. For people on a budget, the Penn Jigmaster has been a long time favorite. The Jigmaster runs about $65 and holds 275 yards of #30 test line. This year Shawncy Perez landed a 7′ hammerhead on a Penn Jigmaster. The loud clicker, strong simple design, and easy of maintenance have made this a surf fishing favorite for decades.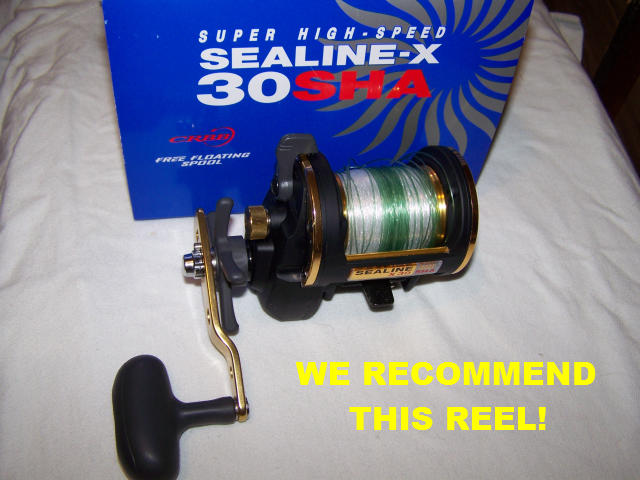 Light Surfcasting – The Daiwa SHA-30 series and the Penn 525 mag are the 'top of the line reels' when it comes to surf casting. With the right rod, the 525 can cast a 5 oz sinker 150+ yards. The Penn 525 Mag holds 275 about 17 test line, even though it is rated 275 yards of 15 test line. The Daiwa SHA-30 series is a little larger holding about 300 yards of 20 test line. The Penn 525 goes for about $170 and the Daiwa The Daiwa SHA-30 goes for $120. Both seem to cast about the same.
For $50 less, and 100 yards more line, I recommend the Daiwa reel. It also has a much better clicker. The Daiwa SHA-30 is probably the favorite reel of long distance surf casters in South Texas. When people handle the reel for the first time, they are amazed how smooth and easy the little reel throws lead. No complaints on this model. Since I already fish for sharks with kayaked baits on larger reels, this is the size of reel I use to fish for jacks, bull reds, pup sharks, stingrays, and other surf species.
Heavy Spincasting – The Penn 950 and the Fin-Nor OFS Spinning reels will hold about 300 yards of 30# test monofilament line. They have a very strong smooth drag system. Spincasters mate very well with spectra fiber lines. Either reel will hold 350 yards of 80# test Power Pro and can handle sharks to 7+ feet. These spinning reesl can also chunk some big baits. I have tossed 1# baits 30 yards with the Penn. Another good quality of the spincaster is the lack of backlashes. It is very forgiving when casting in the dark, making it a favorite of sportsmen fishing the jetties at night.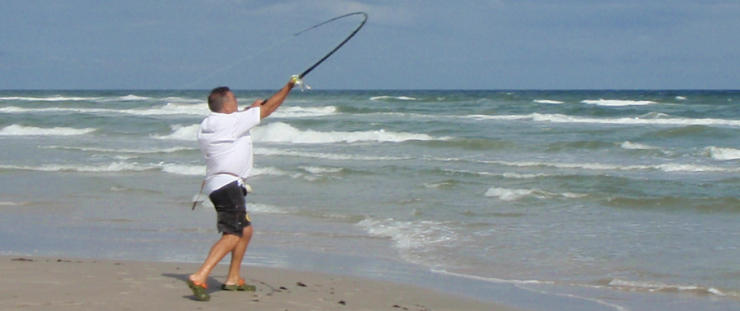 Rods
There are a lot of choices in selecting rods for surf casting tackle. Here are my recommendations:
10′ Uglystick, $80; light, strong construction; good with a Penn 4/0 Wide. The best all around combination if you do not have a shark rig and want to a set up you can cast and also run out on the beach. Top cast here is 50-60 yards.
12′ American Rodsmith, $55; fantastic value rod. Great with a heavy offshore spinning reel or medium conventional reel like the Daiwa SL-X50HA; very durable. Top casts 100 yards plus with a smaller reel like the Penn 525 mag or the Daiwa SHA-30. If you go with a Penn Jigmaster for $65, the combination is a good value package for the new fisherman.
12′ Ocean Master, $130; great surf rod; fast action means long casts, very high quality for the money. Add a Daiwa SHA-30 or SHA-50 and you are ready to go. Compares with the 12′ American Rodsmith, but the quality is higher.
Specialty Distance Casting Rods ~ The LDX and HDX series from Breakaway are highly rated rods. The rods are 13′ long. They run a little over $200 for a rod, but the people that own them swear by them. I have never owned a Breakaway rod, but I have dealt with Mr. Nick Meyer here in Texas. If you have any problem with one of their rods, Nick will take care of you, no questions asked. These rods can cast a 5 oz weight 150+ yards under tournament conditions.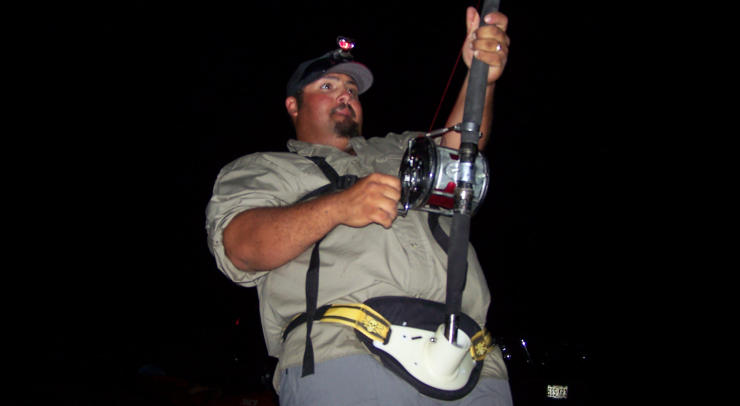 Fighting BeltSome folks may ask, "Why a fighting belt for surfcasting gear?" Simple, when the big Tarpon show up or the lifetime ling is greyhounding for the horizon, a belt provides the support to go the distance. With a belt, you concentrate on the fight and not how the rod feels in your side. For battles lasting greater than 20 minutes, the belt is priceless. A $35 Numark belt really lets you get after your fish. We have landed sharks in the seven-foot class on surfcasting gear off the jetty at night because I had the belt. Without the belt, I could have never gone the distance with sharks.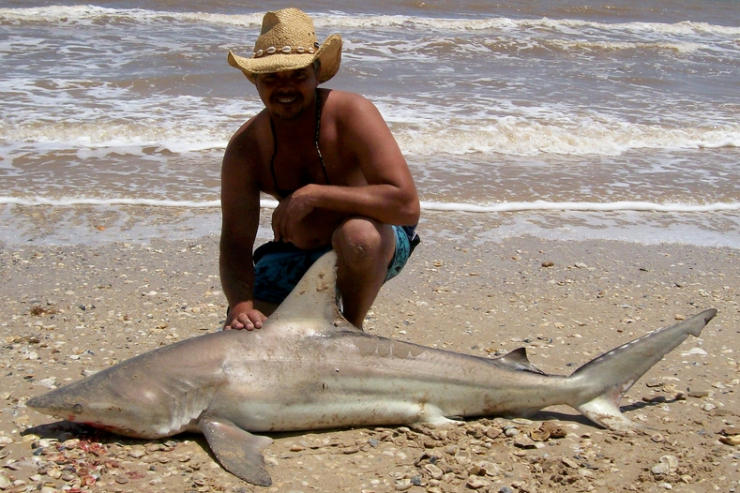 If you have any questions about this article, please post them on our messageboard: http://www.tx-sharkfishing.com/messageboard/index.php