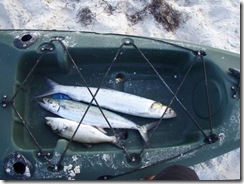 Spanish Mackerel are torpedo shaped, high speed, predatory fish that are great sport to catch on light tackle. They can be caught from the beach, pier, or kayak and are fun no matter how you catch them.
I use a medium light spinning outfit with a 7' rod with 10lb test mono or 20lb test braid. It gives you plenty of power to handle the biggest Spanish Mackerel and other common by catch species.
Using fresh or live shrimp, finger mullet or virtually any other baitfish free lined or chunked out on bottom will readily produce hard hits from voracious Spanish Mackerel. As much as live bait is a sure thing for catching Smacks so are quickly retrieved artificials including spoons, various hard and soft jigs, and my favorite, topwater poppers. Go to Mackerel lures are Gotcha Plugs(especially from a pier or kayak where water is deep), Krockodile and Kastmaster spoons, and Rapala skitter pops. Topwater lures tend to work more effectively in the hours around dawn and dusk and when the sky is cloudy. Depending on the day the retrieve speed and presentation may vary a little bit but it is a safe bet to work your lure in a fast erratic motion that will draw instinctive strikes.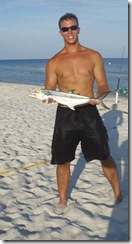 Mackerel have very sharp teeth so using heavy monofilament or fluorocarbon leader is a necessity no matter if you are using bait or lures. You can also add a small 6 inch trace of thin wire to help prevent cut offs but I personally prefer to fish with heavy fluorocarbon. A typical fish finder rig with a 2ft section of 50-100lb mono or fluorocarbon attached to a small swivel and a 4/0-6/0 circle hook and a weight sliding on your mainline is a sure way to fish using bait. If you are fishing from a pier free lining live baits without a weight using the same rig is a go to way to produce.
When fishing artificial lures I use the same rig without a weight but sometimes I exclude the ball bearing swivel because the mackerel tend to even hit the swivel when they are in a frenzy. When they are feeding heavily you could put a treble hook on a key chain and throw it out there and expect to hook up immediately. If they are blitzing like that, tie a uni-uni knot and from your mainline to your leader and you are ready to fish. Although, I can't make any promise that they won't hit the knot either!
Go out and give fishing for Spanish Mackerel a try!
Article by: Matzy