01. Equipment
Let's start with what I think everyone would ask first, Equipment.
Tackle DOES NOT have to be expensive. Many people are under the assumption that salt water tackle has to cost lots of money in order to stand up to the rigors of fishing in a salt water environment. This is simply not true. Without preventative maintenance, any equipment no matter what the cost will corrode and become useless. Equipment exposed to the salt water MUST be cleaned after every trip. This means rinsing them with lots of fresh water, cleaning them with mild soap and water if necessary. You will occasionally have to take your reels apart (or have someone do them for you) and clean and lubricate all the internal parts. The emphasis here is purchase the best equipment you can but don't go in to debt over it. A thirty dollar rod and reel combo can get you started the same as a high dollar rod and reel can. The reality is, getting started. So how do we get started? If you have rods and reels designed for fresh water fishing, then you are on your way to catching the smaller of the species found in salt water. Speckled trout, flounder, whiting, and slot redfish can all be fished for on fresh water equipment. Most of the equipment used to catch fresh water stripers, largemouth bass and hybrids can be adapted to salt water. Hooks, lures, jigs and plastics used in fresh water can also be used in salt water. The only thing that occasionally changes is the size and weight. Your leaders and weights can be store bought or home made. There is satisfaction in learning how to make your own single and double drop leader rigs, making your own weights and fishing with them. Making your own equipment in between trips can be rewarding. Purchasing the items needed to do this can be as simple as going to your local tackle shop to looking for them on the internet. Internet tackle suppliers now allow you to sit back and hunt for the best bargains at your leisure. One last point here is much of this tackle can also be used in the bays, on piers and jetties too.
Let's talk about rods and reels:
To avoid confusion, we have covered in the first page the fact that you can use fresh water rods and reels for small species in the surf. Let's start talking about the bigger surf equipment. These can also be a spinning or conventional rod and reel but are on a bigger scale.
Spinning Reels vs. Conventional
Spinning reels are probably the easiest way to get started fishing in the surf. They are easy to use and allow you to concentrate on other things such as reading the water, tides, movement of birds, bait in the water, etc. A spinning reel is easy to cast and rods usually come in lengths in the ten to twelve foot range. The cost of surf reels is relatively inexpensive. They can be purchased separately or in a combo. They run the gamut of Abu Garcia to a Zebco. Do some research, ask questions, go to the stores and look them over and purchase the best you can afford. Once you've made your purchase, learn how they work. Learn how to properly put line on them. Learn the varied differences in fishing lines available. Examples of this are monofilament versus braided lines and the pound of test you want to use. Here too, you can talk to a hundred people and get a hundred answers. It boils down to what you feel comfortable with and prefer. Learn how the drag system works on your reel and adjust it accordingly.
Conventional Rods and Reels
These types of reels occasionally pose a problem to the beginner. Why? Many beginners simply forget to apply thumb pressure to the spool as the line pays out and especially as the bait or lure hits the water thus resulting in a backlash ("birds nest") meaning the spool over runs and the line goes everywhere. You MUST practice using these types of reels. Some open face or bait casting reels have a magnetic drag system that can be preset to prevent backlash but other reels require you to use your thumb. An example of this would be an Abu Garcia bait casting reel. You can set the spool to let out line faster but it will also result in more backlashes. A rule of thumb in using these reels is to attach your weight or lure to the rod and holding the rod up, let the lure or weight drop at a gradual descent so that as the lure or weight hits the ground, the spool does not over run. As you gain more experience, you can loosen the spool to allow longer casting. Whatever rod and reel you choose. No matter what your experience level is. You must practice, practice and practice some more. This holds true for anyone that fishes. Most conventional reels also have "clickers" or line alarms that will tell you when a fish is running with the bait. Nothing gets the blood pumping like hearing this sound. The next page will show some photo's of some conventional rods and reels for surf fishing. Remember, these are only a few of the many out there.
| | |
| --- | --- |
| Abu Garcia 10000 | Penn Jigmaster |
| | |
| --- | --- |
| Penn 555 | Penn Squidder |
| | |
| --- | --- |
| Penn 113 | Newell S220 |
These are some of the different rods and reels available.  The rods and reels pictured below are some top of the line models and will handle any of the larger species found in the surf.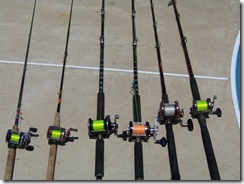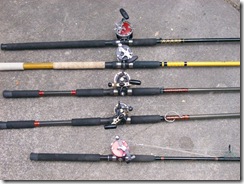 Courtesy of TSF member Jim Foster
The rods and reels pictured above are some top of the line models and will handle any of the larger species found in the surf.
Here are some more examples: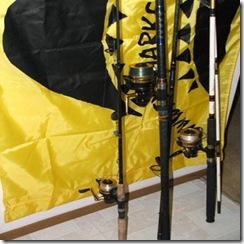 Courtesy of TSF member Mike Multop
You will notice in this picture that the two rods to the left are actually used as bait rods and/or for catching the smaller species such as trout, flounder, whiting etc. These are also capable of handling larger fish but require the angler to fight the fish longer. The first rod and reel on the left has actually caught a thirty five pound Black Drum that required a forty minute fight.
Here are some examples of various spinning rods and reels.
| | |
| --- | --- |
| Daiwa 5000 | Penn Slammer |
| | |
| --- | --- |
| Shimano Baitrunner | Quantum |

Spinning rod and reel in action

Courtesy of Surf
Courtesy of AggieJoe
Conventional/Spinning Long Rods
When we talk about long rods, whether they are spinning or conventional, we are talking surf fishing. Examples of this would be a Penn two piece spinning surf rod in the twelve to fourteen foot range to the Break Away fishing rods which some anglers hold as the best casting rods in the world. Many professional casters who participate in casting tournaments use these rods. There are many rods out there to choose from. Daiwa, American Rodsmith, All Star, Ocean Masters, Ugly Stick, Penn to custom made rods are just some of the rods available to surf anglers. Again, it is a matter of preference and what you feel comfortable with. Talk to experienced surf fishermen and learn from them and make your choice.
Long distance casting
Nothing is more satisfying than slinging bait seventy to one hundred yards across the surf but how do you get to be this good? Let's try to take a look at casting and try to figure this out. Casting successfully involves many things. Length of the rod, flexibility of the rod, line, weight, bait and leaders all contribute to your distance. You are not going to throw as far with a fully rigged rod and reel with leader, bait and weight as say someone using a practice weight. It has a lot to do with inertia, drag and a lot of scientific stuff that most of us couldn't begin to understand. So, how do you get to where you can consistently throw a bait long distance? There are several ways to learn. One is PRACTICE. Find a soccer field or other suitable surface in your area that will allow you to practice with a practice plug. A practice plug is usually a rubber coated weight you tie to your line. Another way to learn is to get with some members on this site. There are some that have casting practices and tournaments to see who gets bragging rights. TSF member Dig-on-me is an excellent source for this. Attend one of these practices and learn from some of the best out there. Ask questions, apply the techniques and practice them.
Safety while surf fishing
There is one more thing that is essential here. Safety! Always make sure the area around you is clear of other anglers or spectators before casting. Equipment used here is a lot bigger and heavier in the surf than freshwater. Weights and hooks can cause serious bodily harm. This is especially true if the angler is fishing from a crowded pier or jetty. Always let the people around you know when getting ready to cast. Something as simple as saying "GOING OUT" allows other anglers to get out of your way and allow you the space to cast. Don't attempt to throw a line when someone is fighting a fish. The fish may run up and down the length of the pier or jetty and the angler needs to be able to move with the fish. Be courteous. If someone is fighting a fish, offer to lend a hand by getting others anglers and/or rods out of the way, learn to use a pier net or tail rope. There are codes of conduct when on a pier or jetty such as not putting your rods in such a way that hampers others, keeping coolers and other equipment away from the fishing area, setting up chairs and umbrellas around the fishing area. Some piers are marked with a line designating "Rods only past this point." Some also have limits on the amount of rods allowed. Familiarize yourself and Respect these rules of conduct.